Lost Loved Ones
For questions regarding capturing a fingerprint, please call us at 888-515-8324 for immediate assistance.
Visit our YouTube channel for fingerprint information.
Read our Blog about Memorials.
You or your family may be facing the loss of a loved one. There may be loved ones already gone you will always remember. We offer a way to preserve that memory cast in sterling silver or gold. All our custom fingerprint, thumbprint, and footprint keepsake jewelry can be made from an existing fingerprint ID card or ink print. Our fingerprint kit can be purchased from our website.
We are pleased to welcome Precious Vessel Jewelry to our product line. Imprint On My Heart offers services to the families of deceased, funeral homes, mortuaries, neo-natal units and more. To provide better uniform services for our customers, Imprint On My Heart will now service our sister company, Memory In My Heart and customers through one website, www.ImprintOnMyHeart.com.
Our KeepLocTM plug provides the safety necessary for the finest quality cremation ash pendants on the market. Our KeepLocTM plug has been engineered to be water-tight and a permanent seal for your ashes and cremains inside your keepsake memorial.
Baby or Young Child
Parents face so many challenges as they plan for a child. Unfortunately, that precious life may be ended too soon by a miscarriage, stillbirth, ectopic pregnancy, prematurity complications, neonatal death, Sudden Infant Death Syndrome-SIDS, illness, accidents, and other tragic causes. Even though the parents may never have held that precious one in their arms, they will always hold the child in their hearts. To provide a way to treasure the memory, we created these special designs. Each piece can be custom designed to memorialize your loss.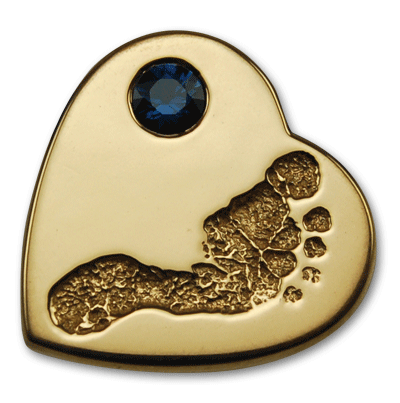 Hospital Print We can create a custom keepsake from a baby footprint taken at the hospital or from your own ink print.
Ceramic or other mold If you have lost a young child and have a ceramic mold or other mold of the hand, foot, or fingers, we can work with your mold to determine if we can re-create the fingerprint from that impression.
Child's Writing If your child had written their name or a love note, we can create a unique keepsake with their actual handwriting, which we cast to create a lasting memory.
Child's Drawing Your child may have expressed their love in a drawing. We have examples of jewelry capturing that memory.
National Pregnancy Loss and Remembrance Day, a special day to honor and acknowledge babies, is every October 15th.
Spouse or Parent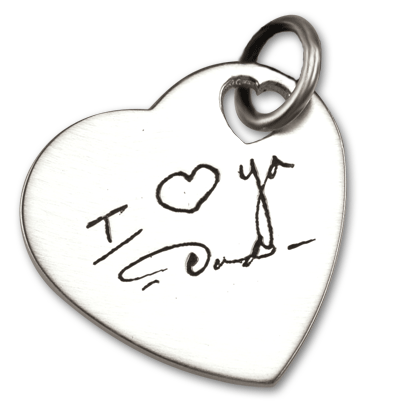 Fingerprint ID Card If you have lost a spouse or parent in the past and have a fingerprint ID card or other ink print, we can use a photocopy of those prints to create your custom keepsake. You can scan and e-mail the print or send a photocopy of the fingerprint via US Mail.
Love note from a card We can cast this special memory in sterling silver or gold. We can use any photocopy of a handwritten note, signature, or drawing.
Fingerprint mold impression We can provide a mold impression kit along with a fingerprint ID card to capture the fingerprints of your loved one while in hospice, at the funeral home, or before cremation.
Partner or Friend
Your relationship was very special, one to last a lifetime. Death may have separated you but memories linger. Having a special, unique piece to celebrate the life you shared is possible with many of our designs. Each keepsake is custom made to express how your loved one has touched your life. Sometimes you may have a card with handwriting. Sometimes it may just be a signature on a check. We can help create a keepsake with what tangible memories are left behind. Our cremation ash pendants can hold the cremains, dried flowers, locks of hair or other items that preserve your memories.
Final Days
Hospice or Funeral Home For those families facing the death of a loved one or planning a funeral, we will provide a fingerprint kit. The kit will include the mold impression material and the fingerprint ID card so you can capture the fingerprints. The kit includes a pre-paid USPS Priority Mail envelope for you to mail back the prints. You can then decide at any future date what keepsake jewelry designs you would like to create from the fingerprints.
Baby footprint or handprint For a baby, a full footprint and/or handprint can be taken to capture the size of the baby. For young children and adults, the fingerprints and thumbprints can be taken.
Locket of Hair We can also create a cavity in any jewelry design or use the inside part of the photo locket to resin a locket of hair. All designs can be created using the handwriting of the loved one.
Engraving and Handwriting Included
We provide a selection of fonts for you to consider. Engraving can be on the front and/or the back of each piece. Include the handwriting, love note or signature of your lost loved one.
Priority Shipping
All that is needed is an inked fingerprint. If you can get dark craft ink and white paper, that will work great. We suggest you take several prints of multiple fingers and choose the few best.
Visit our YouTube channel for many different ways to capture a fingerprint.
Our fingerprint kit can be purchased from our website or by phone. USPS Priority Mail shipping is included or your kit can be shipped via FedEx Priority Overnight or FedEx 2-Day Service for an extra charge. An order for a kit can be placed online or by phone. The fingerprints kits can be sent to any address including a funeral home, mortuary, or a crematory, if needed. Detailed instructions are included in the kit.
Treasured Memories
We have created many unique, personalized keepsakes for our customers from items saved over the years. The person may be gone but the memories are not.
Our Precious Vessel Jewelry line is specifically created for those who wish to hold their loves one near them. Each Precious Vessel cremation ash pendant holds about 1/4 teaspoon of cremains. Our uniquely designed pendants have a KeepLocTM plug that will be permanently sealed without a screw or the use of glue. When it comes to your cremation ash pendant, the quality of the plug matters. Our vessels are designed by master artisans who understand the challenges of securing the hole for the cremains for a permanent seal.
* A daughter used her father's fingerprint from a fingerprint ID card and a love note he wrote to his wife to create a heart pendant for her mother.
* A wife created a keychain with her husband's fingerprint for her son.
* A daughter created a heart pendant with a love note her father had written to her.
* A wife created dog tags for her husband's father and a heart pendant for her husband's mother.
We have created dog tag shapes and long vertical tags with baby ink prints. We have created heart pendants from baby toe prints. We have created many of our Love Notes Signature Collection from handwriting from cards, handwritten notes, children's written names, and children's drawings to their mother or father.
Custom Designs and Casting
* Every piece of our fine fingerprint jewelry is custom made. Our first concern is to capture the fingerprints.
* We offer most of our Precious Vessel cremation ash pendants ready for purchase. If you would like a custom design, please contact us with the details.
* We keep all fingerprints on file allowing you to place an order at any date in the future. This gives you time to decide just how you want your individual treasure designed.
* For any questions about our jewelry, please contact us by e-mail or by phone at 888-515-8324.
All of our custom keepsake jewelry is created using the lost wax casting process. We cast in .925 sterling silver, 14k and 18k yellow, white, rose and green gold to create a solid lasting cherished keepsake of the one you love. Engraving is included with every jewelry keepsake. We also provide natural genuine birthstones and other stones by special request.
Each piece our jewelry is created with the utmost quality to ensure an eternal, lasting keepsake for generations. We can create as many keepsakes as you would like from one fingerprint impression or ink print. Engraving is included with every jewelry keepsake. Inset genuine natural birthstones are available in many sizes to add that special remembrance of your loved one.