Permanent Seal KeepLocTM Plug
We did some major research and engineering for our permanent seal KeepLocTM plug. There are concerns with securing your loved ones' cremains in a cremation ash pendant. Some can break and some can leak. Many are required to be secured with Super Glue. With our desire and drive to create the best possible quality cremation ash pendant on the market and provide a water-tight, permanent seal plug, we designed and developed this seal for all our cremation ash pendants. This now includes our fingerprint cremation ash pendants, key fobs, cuff links, Precious Vessel cremation ash jewelry and all other designs.
At Richards and West, we design and manufacture the finest quality jewelry. We wear our creations. We understand the needs of our customers, because we are there. From the loss of a sister, grandparent, spouse and co-worker, we understand the bereavement process and how comforting a precious memorial can be with the ashes of the loved one securely locked inside.
From our customers needs to our own, we have created memorial keepsakes that include baby hand and footprint jewelry. For the mother and father who loose their child, this memorial is an everlasting reminder of their love.
Instructions for filling and sealing the KeepLocTM plug.
Download the instructions for filling and sealing the KeepLocTM plug.
When someone looses a family member, from a sister, spouse or grandparent, our Precious Vessel cremation ash pendants and Imprint On My Heart fingerprint jewelry will help the bereavement process and leave a lasting touch of their memory. Our handwriting jewelry was created from the desire of Kathryn Albers to create a memorial of her grandfather. The fingerprint was no longer available, but his beautiful handwriting was there. We all experience loss. We understand the need for a quality memorial that will last for generations as the loving reminder of those people who have touched our lives.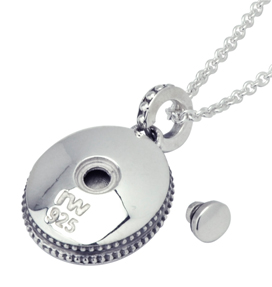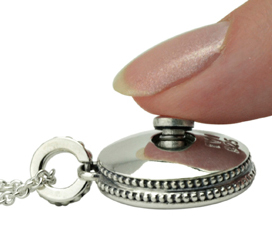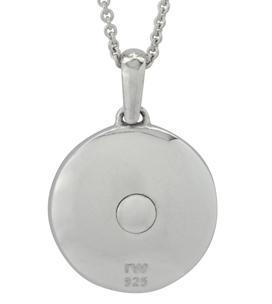 Contact us today to design your memorial keepsake or ask your local funeral home or crematory for information about our custom designed fingerprint memorial keepsakes. We offer many artisan designed cremation ash jewelry designs for both men and women including pendants, cuff links and key fobs.
Listed with Nomis, NFDA and ICCFA.
Please send your high resolution scan (PDF or 1200x1200dpi JPG works best) of the prints or handwriting here: HIGHTAIL
You can also send your prints by mail to:
Imprint On My Heart / Richards & West
501 West Commercial Street
East Rochester, NY 14445.
888-550-5166
Our Imprint On My Heart keepsakes can be created with a fingerprint, thumbprint, foot or handprint. Each piece is custom designed with the engraving of your choice or a handwritten message. Our lockets are a perfect choice with a fingerprint on the front and a photo of your loved one and a lock of hair encased in resin on the inside.
We have a large selection of cremation ash pendants. Our line includes the highest quality vessels which are assembled by hand and tested for security. The ashes can be placed inside and sealed shut. Our new cremation ash pendant designs include the highest quality gemstones and diamonds. Memorial jewelry is a keepsake to be treasured for generations. We provide the quality for that treasured keepsake. The highest quality sterling silver, 14k and 18k gold is used for our keepsakes. The fingerprints are created as an impression, you can put your finger into their print and bring them close to you. The engraving or handwriting is deep into the metal. We do not laser or machine engrave our prints. With the highest quality, our keepsakes will be a lasting memory of the one you love.